FARMERS could face fines of almost $16 million and up to 20 years' jail under new industrial manslaughter laws being drafted by the Victorian Government.
Premier Daniel Andrews last year promised that if re-elected, he would introduce industrial manslaughter leg­islation on the basis that "families who have lost a loved one at work deserve justice – and that means jail, not a slap on the wrist".
The Government's Workplace Manslaughter Implementation Taskforce has already started consulting with the Victorian Farmers Federation, other industry groups and the families of those killed on farms.
While farms directly employ only 3 per cent of the workforce, they account for a large proportion of workplace deaths.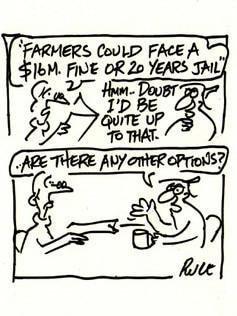 Twelve of the 24 workplace deaths in 2017-18 were on farms, while in 2018-19 five of the 24 deaths were on farms.
Holding Redlich partner and specialist in workplace law Charles Power said "once this comes in the stakes will be a lot higher".
But he said any industrial manslaughter case would require WorkSafe to prove gross negligence — that an employer knew a worker had no access to safety measures, but still directed them to engage in a dangerous task that led to a death.
It appears the industrial manslaughter offence will apply to negligently causing the death of not only workers, but also contractors, visitors, passers-by, neighbours or members of the public.
"Farmers need to appreciate that when there's a death, they need to be very careful in their dealings with WorkSafe and not incriminate themselves, because they face personal liability," Mr Power said.
Industrial manslaughter legislation was introduced to the ACT in 2004, but the then prime minister John Howard's government passed legislation exempting all Commonwealth workers.
Queensland also introduced industrial manslaughter laws last year, in response to the deaths of four people at the Dreamworld theme park on the Gold Coast in 2016.
Source: Farm deaths risk industrial manslaughter charges | The Weekly Times